Top Four Colour Pops
Create a stir at work by adding one of our top four colour pops to your work wardrobe.
We are well entrenched into a new year and our work wear is starting to feel a bit meh. Why not add a colour pop to make a statement walking through those office doors with four colours that will swivel desk chairs (or look great on the Zoom call).
Aqua Blue
Did you know blue is the colour for authority? Own your style and step out in a clean and bright aqua blue, a flirty take on a colour that's loved by many. Pair with white for an elegant look and make a statement to be remembered by.
Lilac
Straight from the candy shop, this feel good colour looks fantastic partnered with lolly pink, lemon and powder blue - all colours we have been loving this summer so far.
Team your lilac with a touch of plaid for a little 'don't take me too serious' fun office look. Lilac is the perfect shade of purple for those who are soft and cool.
Cinnamon
Also known as Tobacco, but Cinnamon sounds sweeter, this is a welcome neutral to your back to work wardrobe and a refreshing change from good ol' black, navy and charcoal.
It's the perfect base to warmer tones but also fun when partnered with pink for a 'sugar and spice and all things nice' vibe or navy and black for a strong back to work statement.
Candy Pink
This summer we have seen a surge in playful brights with candy pink being a firm favourite. The ideal colour for the romantics out there and those not afraid to make a feminine statement.
A striking and on trend addition to your black and white basics, this shade is perfect for those with cool colouring.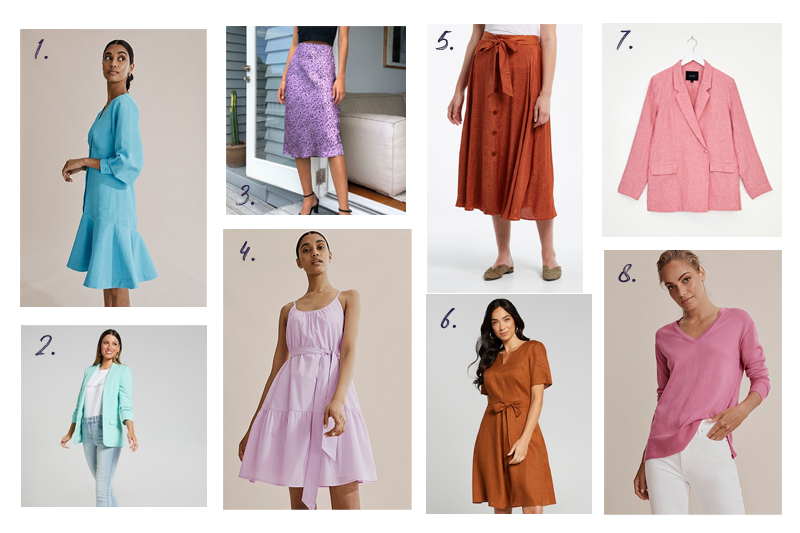 1. Country Road Corset Detail Mini Dress $199
2. Portmans Mi Amour Blazer $119.99
3. Country Road Gathered Mini Dress $159.00
4. Glassons Satin Spot Midi Skirt $39.99
5. Whistle at Farmers Textured Midi Skirt $89.99
6. Jacqui E Louisa Linen Dress $139.99
7. Glassons Linen Blend Asymmetric Blazer $39.99
8. Country Road Australian Merino Wool V-Neck Knit $149.00
Remember, fashion is something to have fun with. Experiment and be bold this year and own your 2021 in style.
Stylishly Yours
Shore City
Subscribe to our newsletter
Subscribe today to receive the latest offers, events and exclusive promotions at Shore City.